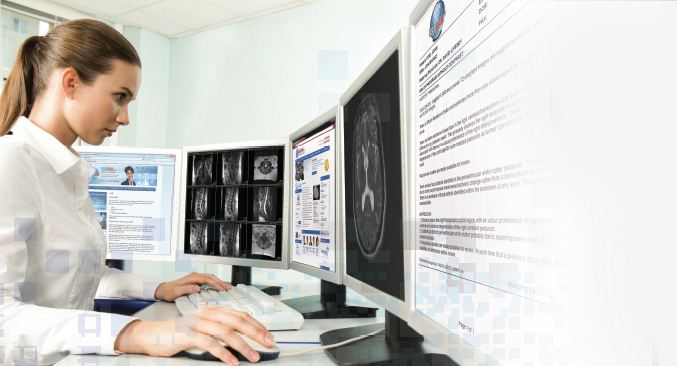 Radiologists Trained At Top Institutions - NYU, Columbia, Cornell and more!
Executive Team
Michael Yuz, MD, MBA, Chief Executive Officer
Michael is a founder of USARAD Holdings, Inc. and currently serves as its CEO and Executive Radiologist. Michael is a serial entrepreneur with extensive leadership and business background spanning all of his career, starting his first business at the age 14. Michael trained at several preeminent institutions including New York University and Thomas Jefferson. He received MBA degree in Healthcare from the prestigious George Washington University dedicating his studies towards evolving field of telemedicine / telehealth.

Michael is a double boarded diagnostic radiologist, with extensive training and experience in multiple advanced modalities including MRI and Cardiac CT. He has held positions as Chief Radiologist in a large private radiology group, and was Director of a Cardiovascular CT laboratory at a private imaging center along with being the head medical instructor for a Cardiovascular and Body Section program during a teaching residency program.

Michael became fascinated with technology, internet, medicine and business at a very early age, a reason why he first chose to become a radiologist, the most technologically dependent medical specialty. He has acquired, invested into and traded many top domain names and has invested into biotech companies. Over the years, he started from scratch several successful internet related technologies and companies, including USARAD.com (teleradiology) and XMRI.com (automated radiology second opinion portal). He owns a distinct IP including domain names, trademarks, internet/technology platform with multiple patents pending.

---

 

Alex Krakopolski, Chief Technology Officer
Alex is an expert in healthcare virtualization technologies and brings extensive leadership experience in healthcare IT infrastructure. He has over 20 years of experience as a Systems Managing Administrator and Information Technology Executive in International Banking and the Medical field. Since 2002, Alex has worked exclusively in the medical imaging/radiology and healthcare IT field as an executive. He graduated in 1989 from St. Petersburg State University of Information Technologies, Mechanics and Optics (University ITMO), world's leading IT/technology university, where he earned a Master of Science degree cum laude.

---

 

Nadya Kanevski, VP Engineering
Nadya has over 20 years of experience in Web Technology. Nadya has expertise in Finance, Banking, Networking, Medical Research and Educational Applications web software development. She enjoys solving challenging problems experienced in all latest programming languages including JAVA and HTML5. Prior to joining USARAD Holdings, Inc., Nadya has been working for multiple major US companies. She developed architectural solutions for web based applications and mobile devices and has been a senior architect and contractor for BP.com, Deutsche Bank, United Airlines, Accenture, First Data Corporation, Barclaycard and many others.

---

 

Lisa Hawkins, Director
Lisa is the Director of Physician and Client Credentialing at USARAD Holdings, Inc. She joined USARAD in January of 2012. Prior to her employment at USARAD, Lisa worked as both a Project and Product Manager for 20+ years at a Telecommunications Company. She received her Master's Certificate in Project Management from George Washington University. In addition she has over ten years of experience as an Administrative assistant to District Managers, Directors and Vice Presidents. Lisa brings with her superior communication skills which attributes to her valuable client relationships. Lisa's vast experience with client relations and Project/Product Manager skills will transfer well into the Healthcare field.

---

 

VP, Global Business Development and Special Projects
Elli as a former executive in the healthcare/pharmaceutical industry (including Wyeth Consumer Health and Celltech Pharmaceuticals) and brings tremendous business development experience to the company. While in pharmaceutical industry she was consistently ranked #1 in sales generation. Elli was an entrepreneur both within and outside the healthcare industry operating a number of successful businesses prior to being one of the founders of USARAD Holdings Inc. Currently she has the overall responsibility for global business developments and special projects including SecondOpinions.com division. Elli graduated with a BBA degree from Hofstra University and has continued her education with graduate courses in finance and business management.

---

 

David P. Di Paolo, M.D. Medical Director
Dr. Dipaolo is Board Certified by the American Board of Radiology with special expertise in Neuroradiology and Pediatric Neuroradiology. He holds Certificate of Additional Qualification (CAQ) in Neuroradiology. Dr. Dipaolo r obtained his BA in La Salle University and then earned his medical degree from B Pennsylvania State University - College of Medicine. He completed his radiology residency training at Bryn Mawr Hosptial and afterwards completed neuroradiology fellowship at Thomas Jefferson University Hospital and specialized pediatric neuroradiology fellowship at Children's Hospital of Philadelphia. Dr Dipaolo has written multiple neuroradiology book chapters and published original research. He is fluent in Italian

---

 

Sreechandra Donepudi, M.D. Medical Director
Dr. Donepudi graduated from University of Medicine and Dentistry of New Jersey in 2004. He completed Diagnostic Radiology residency and MRI fellowship at University of Arkansas for Medical Sciences in 2010. Dr. Donepudi has been part of the USARAD family since 2012.

---

 

Janet Novak, Director Of Sales
Janet is known for her ability to increase sales, improve bottom line results and effectively work with all stakeholders, in and outside the organization. She has a passion for working with customers and believes client satisfaction is one of the key performance indictors to a successful bottom line.
Before joining USARAD, Janet served in numerous sales and sales management positions in high growth organizations including vRad, the largest radiology practice and provider of telemedicine in the country. She helped develop the original sales infrastructure, increased sales over a five year period resulting in $65M in revenue and assisted in transition from a venture capital start-up to publicly traded status.
Janet has played a pivotal role in driving growth and bottom line results across many industries with particular focus in technology, business improvement and healthcare. Carlson Marketing Group and Honeywell International are among the other companies where she has worked. Her strength is working at the intersection of sales and customer support with focus always on return on investment.

Teleradiology
Subscribe on our updates